Miami-Dade Public Library Main Branch, April 21 - July 22, 2018
Portable Memories in Rising Seas is a socially engaged, multi-media project about sea level rise. The project works to connect memory and climate change to create antidotes for grief. Using the force of memory, the project evokes a sense of interdependence with others facing the force of water. The uncertainties brought by current climate change predictions are a threat to place and are also a catalyst for expression and a renewed sense of belonging. Each iteration of the project is a reflection of our collaboration with local community and cultural partners.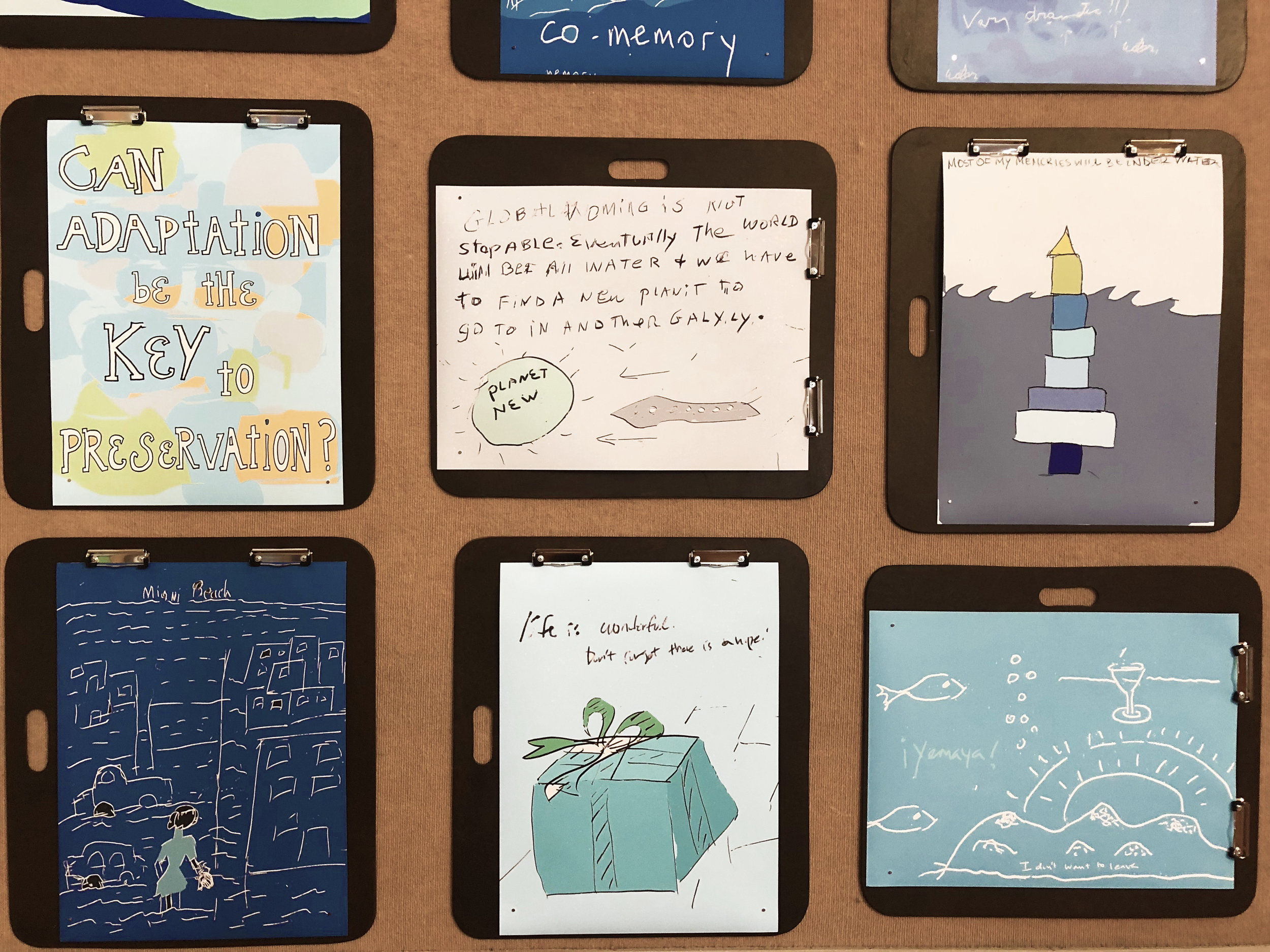 View project components:
View press release for exhibition.
Project Description
With interdisciplinary art methodologies, Fifty-Fifty is engaging residents of South Florida to generate dialogue and to create an archive of reflections, providing an opportunity for the implications of climate change data to manifest on individual and collective levels. At community events, the public is invited to engage in film screenings, dialogue, and visual responses through mark-making on scratchboards. Discussions of proleptic mourning (anticipatory grief) and solastalgia (homesickness while one is still at home) give space for pause and open steps towards action. Following the public events, the participants' drawings are interpreted into prints that become both archive and monument to local experience. Fifty-Fifty also shares participants' stories underwater with nearby sea life in an attempt to keep memories local. The prints and video ask – how do we grapple with the implications of climate change as they manifest on individual and collective levels in a place we are still actively creating?
Exhibition Description
The exhibition at the Miami Dade Public Library includes participants' responses enlarged, heightened through color, printed and mounted on large clipboards. A vitrine holds resources for viewers, a bilingual zine specific to the Miami iteration of the project, and an archive book of all of the participant scratchboards in their original form. Video of the underwater action is shown along with excerpts of the screened films – one a documentary about communities facing relocation due to ice melt and sea rise and the other an animation where people build higher and higher over time as waters rise. Through participation at screening events and viewing of the exhibition, the art collective Fifty-Fifty seeks to create a heightened sense of interdependence that can lead to action and empathy for near and distant neighbors.